How to Nurture Employee Career Growth: Best Practices for Organizational Success
2 November 2023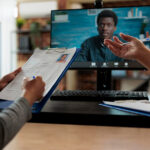 Why Human Resource Needs to Embrace and Move with Trends
6 November 2023
Optimizing Talent Acquisition: Tailoring Recruitment Strategies For Top Talent in Diverse Organizations
Recruiting the best talent is the cornerstone of building a successful and thriving organization. In today's competitive job market, attracting and retaining top-tier individuals requires a strategic and well-thought-out approach. The process extends beyond assessing skills and qualifications; it delves into understanding a candidate's potential cultural fit, growth aspirations, and the overall value they bring to the company. To secure the finest talent, organizations must implement a multifaceted recruitment strategy that encompasses various elements, from crafting compelling job descriptions to offering a compelling and competitive employer brand. Here are the essential steps and considerations to recruit the best individuals for your organization.
Define Clear Job Requirements
Clearly outline the specific skills, experience, and qualifications needed for the role. This foundational step ensures a targeted search for the right candidates who possess the necessary expertise.
Craft Compelling Job Descriptions
Develop job postings that are not just informative but also engaging. Highlight the unique opportunities, benefits, and the company culture to attract the attention of top talent.
Utilize Multiple Channels
Cast a wide net by utilizing various recruitment channels, including online job boards, social media platforms, professional networks, and possibly leveraging recruitment agencies to reach a diverse pool of candidates.
Leverage Employee Referrals
Encourage and incentivize your current employees to refer potential candidates. Personal recommendations often lead to high-quality hires, as they come endorsed by someone within the company.
Develop an Appealing Employer Brand
Showcase your company's culture, values, and benefits through your website, social media, and other platforms. A positive employer brand can significantly influence the interest of potential candidates.
Implement a Thorough Screening Process
Design a comprehensive process that involves resume screening, initial interviews, skills assessments, and possibly assignments or tests to evaluate a candidate's fit for the role and the organization.
Conduct Effective Interviews
Train your interviewers to ask relevant questions that assess both technical skills and cultural fit. Behavioral interview questions are particularly effective in understanding a candidate's reactions in various work scenarios.
Highlight Growth Opportunities
Clearly outline the potential for career growth within your organization. Many top talents seek roles that offer learning and development opportunities.
Offer Competitive Compensation and Benefits
Ensure that your salary and benefits package is competitive within your industry. Competitive compensation and perks are often a critical factor in a candidate's decision-making process.
Provide a Positive Candidate Experience
Aim for a seamless and positive experience for candidates throughout the recruitment process. Timely communication, transparency, and constructive feedback are crucial for leaving a lasting positive impression.
Assess Cultural Fit
Evaluate whether the candidate aligns with your company's values, mission, and work culture. Cultural fit is vital for the long-term success and satisfaction of both the individual and the organization.
Follow Up and Close Efficiently
Once the ideal candidate is identified, move promptly to offer them the position. Any delays in the hiring process could result in losing top talent to other opportunities.
Certainly! Success Africa, with its specific regional focus and expertise, can significantly enhance the recruitment process in various ways, especially within the context of the African continent.
In the quest to recruit top talent for your organization, the involvement of specialized regional experts such as Success Africa can remarkably enhance the recruitment process.
Success Africa's deep-rooted understanding of the local talent landscape, including cultural dynamics, industry trends, and regional preferences, can assist in tailoring job descriptions and recruitment strategies that resonate more effectively with the desired candidates. Leveraging this expertise ensures that job postings and communication align closely with the cultural fabric of the region, attracting candidates who not only possess the requisite skills but also fit seamlessly into the organizational culture.
Moreover, Success Africa's network and reach within the African job market can facilitate access to a wider pool of diverse talent. Their connections and engagement across various sectors and regions can expedite the identification and attraction of top-tier candidates, ensuring a comprehensive search that spans the continent.
Success Africa's involvement in the screening and assessment process can further ensure that candidates are not only evaluated for technical competencies but also for their alignment with the specific cultural nuances and values of the organization. Their expertise in evaluating cultural fit within the African context can significantly contribute to finding individuals who not only excel in their roles but also contribute positively to the company's overall culture and ethos.
In essence, integrating the expertise and insights provided by Success Africa into the recruitment process enriches the approach by tailoring strategies, leveraging local networks, and thoroughly assessing candidates, resulting in the acquisition of the best talent that aligns both professionally and culturally within the organization. This collaboration with Success Africa not only streamlines the recruitment process but also ensures a more effective, culturally aligned, and successful outcome for the organization.